Everyone knows your Tinder profile picture is THE most important factor in whether or not you match with women on Tinder. However, most guys are clueless when it comes to what separates a good profile picture from a bad one (spoiler alert: it's not looks). Below are 7 tips my team and I meticulously researched and found to boost the quantity (and quality!) of the women you match with on Tinder.
Tinder Profile Picture Tip #1: Crop or frame your picture from the waist up

Your picture should show your face at either frontal or three-quarter angle with your facial expression clearly visible
Anything closer is overwhelming; anything further doesn't show enough of your face
Tinder Profile Picture Tip #2: Facial expressions convey personality (so choose wisely)
Most guys don't consider that women on Tinder are trying to discern their personality through facial expression
Realize this: until she meets you in real life, she's going to deduce the sort of man you are largely form the look on your face
Pick a photo where your facial expression is not only flattering, but also conveys PERSONALITY (example: a playful smirk conveys an easygoing disposition)
Tinder Profile Picture Tip #3: Make sure your background isn't distracting
The focal point of your picture should be you and you alone
Thus, choose a background that's either blurred out or a solid color
The easiest way to do this is by taking a picture in front of something that's a solid color (e.g., a white wall)
A picture with a backdrop of something interesting, such as a foreign country, will work as a secondary picture but produces less matches when used as a primary profile picture
Remember: women are swiping through Tinder to see GUYS—and most women are swiping fast; she should be able to see your attractive qualities in a split second WITHOUT distractions pulling her attention away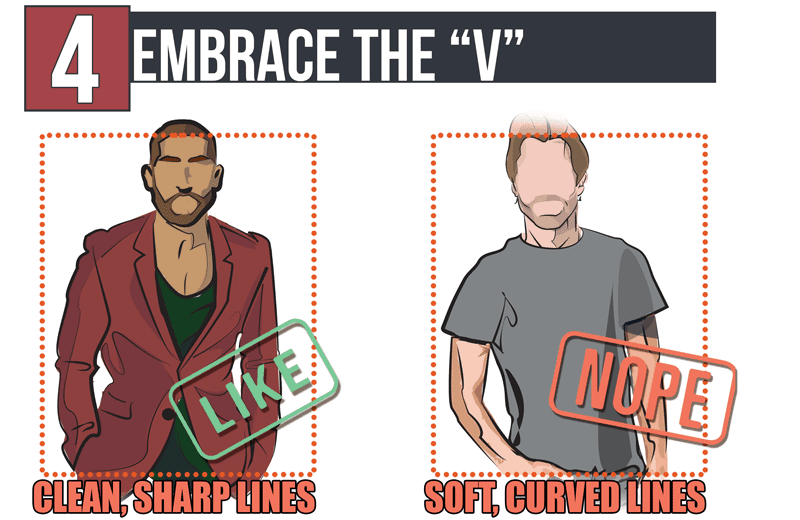 Tinder Profile Picture Tip #4: Wear something that frames your face with a "V-shape"
If you look at men's fashion, you'll find sharp "V" lines in most timeless pieces (sports coats, anything with a traditional lapel, neck ties, shirt collars, ect.)
The sharp lines of a V-shaped garment enhances a man's look because it makes his face look sharper and more angular, which is a masculine and attractive look
Garments with rounder curves (like crewneck t-shirts) soften the angles of the face, which usually leads to a softer, less attractive look
Whether it's a jacket, v-neck, or a button-down shirt left partially open, choose an outfit that frames your face with at least one V-shape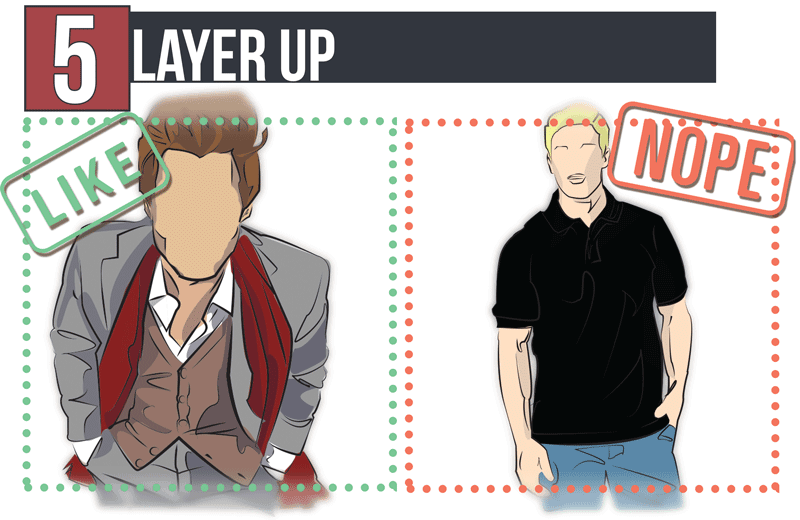 Tinder Profile Picture Tip #5: Harness the power of layering your clothes
You don't have to look like a male model to match with gorgeous women as long as you look fun, ambitious, or interesting
What sort of guy
Think of what you wear as a "uniform" and then choose clothes and accessories that convey an attractive masculine trait that's congruent to your lifestyle
Have the confidence

The permission you grant yourself to remain comfortable in uncomfortable situations.

to pick clothes to make you stand out! It's better to be extreme—even polarizing—rather than dress in a bland, boring way
Remember: your profile picture needs to capture a woman's attention in a split second on Tinder (that means you gotta go big!)
By dressing in layers, you have more opportunities to choose accessories, patterns, and colors that fit the "uniform" of the sort of man you want her to see you as
Example: the ambitious man might consider a broad-shouldered, double-breasted suit jacket complemented by a Windsor-knotted necktie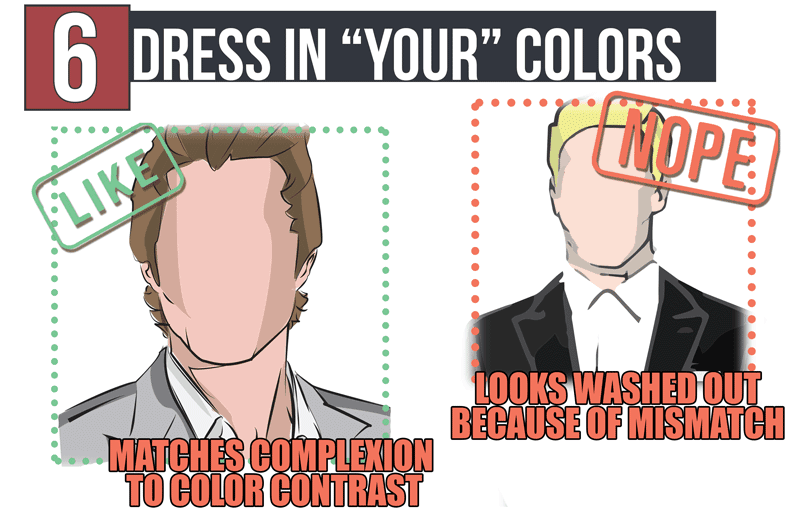 Tip #6: Pick colors that flatter your hair, eyes, and skin tone
Make sure you're flattering your unique physical features using colors with the proper CONTRAST
While there's a lot to consider when it comes to flattering colors unique to you, the quick dirty is this:

The way your hair and skin tone contrast each other should be mirrored in the contrast of your clothes (e.g., a pale-skinned, blonde hair guy is "low contrast" and so he should avoid outfits with "high contrast" such as black suit/white shirt)
Consider your skin tone when choosing the layer of clothing layer closest to your skin (usually your shirt); when in doubt, go blue (flattering to most men's skin) and avoid green/yellow
If you want to bring out your eye color, pair them with an accessory that is either a shade or two lighter (e.g., blue eyes with a turquoise scarf) or an opposite, complementary color (e.g., green eyes and a purple pocket square)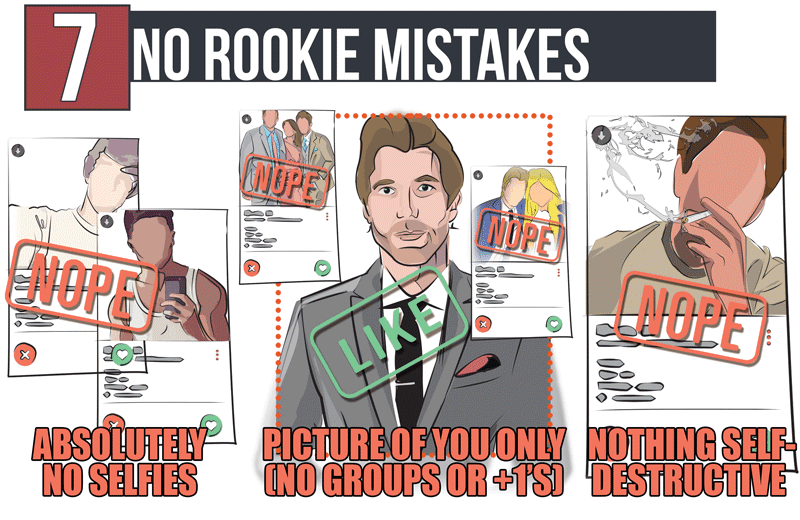 Tinder Profile Pic Tip #7: Avoid rookie mistakes
In your profile picture, make sure it's clearly a picture of YOU (no group pictures, even if it's you a woman…ESPECIALLY if it's you and a woman!)
Don't use selfies (if you're going to be your own photographer, use the time-delay feature on your camera or phone instead so it looks like someone else took your picture)
Unless you're looking to attract a very specific type of girl, avoid any picture that shows your partaking in vice or "bad behavior" (e.g., drug use, smoking, gambling, ect.)
More subtle mistakes of the same ilk include: cropping group pictures and showing you doing activities that aren't necessarily "wrong" but can be an instant turn-off to certain women (e.g., shooting at a gun range)
If you found that useful then I'd recommend picking up my "Match Multiplier Report" for exploiting Tinder's algorithm. If you're not getting matches, there's a VERY good chance it's not even your fault. Most people don't know this, but Tinder is controlled by an "algorithm" that factors in things like your activity, Facebook friends/interests, location, ect.
Often guys aren't matching with women because they've done something that lowered their "Tinder score" (this score isn't made public but it's widely understood that Tinder uses an internal ranking system that dictates matching). To help guys increase their "score" (and thus their matches), I wrote a short report that's only available until tomorrow (December 23rd) at midnight.
Check it out by clicking this link: http://masterhermind.com/multiplier2/